With the rapid advancements in technology, it is no surprise that virtual reality (VR) and augmented reality (AR) have become increasingly popular. As a result, numerous headsets have been launched, aiming to provide an immersive experience to users. One such headset that has gained attention is Google Cardboard. It offers an affordable and convenient way to dive into the world of gaming and entertainment.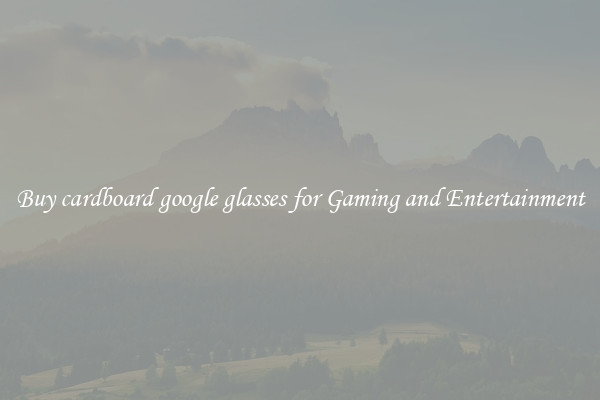 Google Cardboard is a VR platform developed by Google. However, unlike most other VR devices, it does not require an expensive headset or cutting-edge technology. Instead, all you need is a simple cardboard viewer that can be purchased for a fraction of the price. Once coupled with your smartphone, the Google Cardboard transforms into a virtual reality headset.
One of the primary advantages of using Google Cardboard for gaming and entertainment is its accessibility. Unlike other expensive options, Google Cardboard makes virtual reality accessible to everyone. Whether you're a casual gamer or an entertainment enthusiast, you can experience immersive content at an affordable price. Additionally, with the number of VR apps and games increasing every day, the entertainment possibilities are virtually endless.
Another benefit of using Google Cardboard is its compatibility with multiple devices. As long as you have a compatible smartphone, you can enjoy VR content without having to invest in a specific proprietary device. This flexibility is especially appealing for those who like to switch between different gaming and entertainment platforms.
Google Cardboard also offers an intuitive and user-friendly experience. Setting up the headset is as simple as assembling the cardboard viewer and sliding your smartphone into place. Once installed, you can explore a diverse range of VR content, from gaming to 360-degree videos, all with just a few taps on your smartphone screen. The simplicity of use makes it a great option for those who are new to virtual reality.
Furthermore, the Google Cardboard platform encourages creativity and innovation. Numerous developers are working on creating new and exciting VR experiences specifically tailored for Google Cardboard. From thrilling first-person shooters to immersive storytelling and educational applications, the range of content available is constantly expanding.
In conclusion, Google Cardboard provides an affordable and accessible gateway to the world of virtual reality gaming and entertainment. With a simple cardboard viewer costing significantly less than traditional VR headsets, more people can experience the excitement of immersive content. Compatible with a wide range of smartphones, Google Cardboard offers versatility and ease of use. The continually growing library of VR apps and games ensures that there is something for everyone. So, if you're looking to explore new frontiers in gaming and entertainment, consider purchasing a Google Cardboard and embark on an immersive journey like no other.